OUR PRODUCTS
Quality perspective for all your projects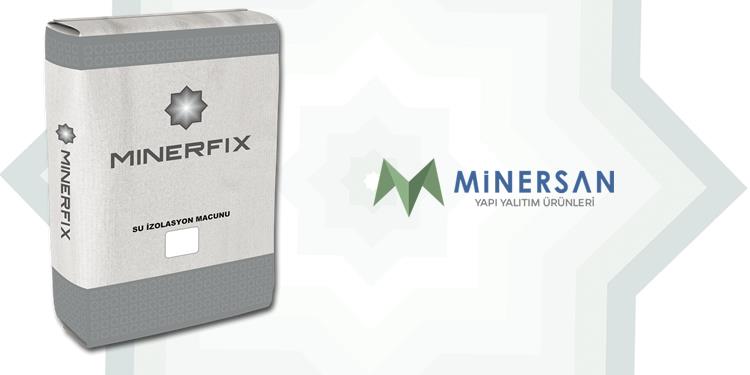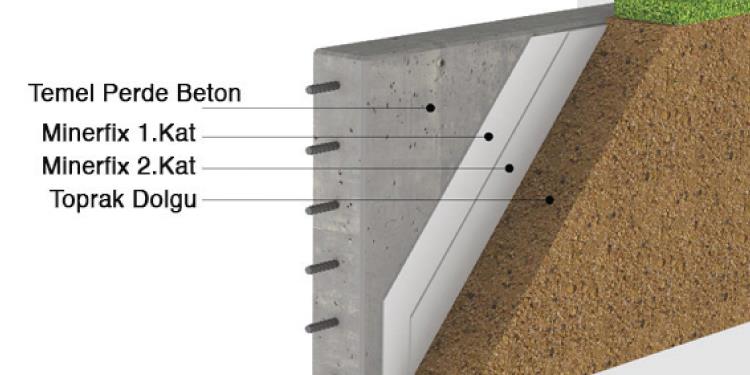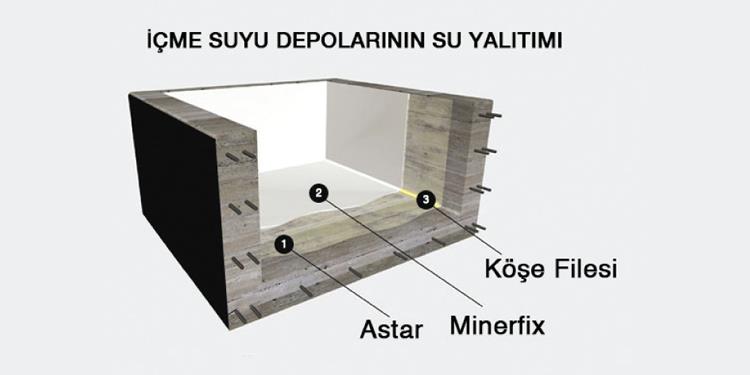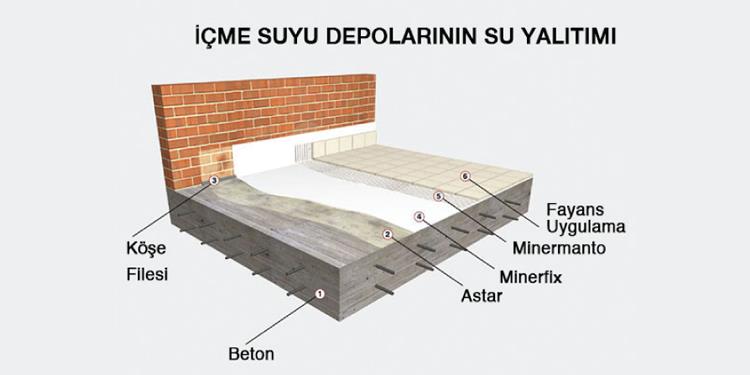 Cement-based, one-component, crystallized waterproofing mortar that is resistant to negative and positive water pressure, can be transferred to the capillary cavities of cement-based surfaces.
MSDS
SCOPE OF APPLICATION
As an insulating material against ground dampness, leaking water, positive and negative water pressure in the interior and exterior of all buildings, especially on foundation and basement walls, terraces, swimming pools, water tanks, wet-volume surfaces such as balconies, bathrooms, toilets and kitchens and retaining walls. used. It prevents water leakage in irrigation channels and concrete pipe joints.
SURFACE PREPARATION
All surfaces should be cleaned from foreign materials such as dirt, oil, paint. Major defects or holes on the surface should be repaired with Repair Mortar at least 24 hours before the waterproofing application. Porous surfaces such as exposed concrete, cement-based plaster, screed should be wetted with clean water and saturated.
APPLICATION CONDITIONS
Care should be taken that the ambient temperature is between +5 ° C and +35 ° C during application. Do not apply on surfaces that are frozen, melting or have the risk of frost within 24 hours. It should not be applied under direct sunlight or strong wind.
APPLICATION FEATURES
When applied to the concrete surface, it penetrates into the concrete and the active chemicals it contains react with free lime and moisture in the capillary cavities of the concrete to form insoluble crystal structures.
Application thickness: 2-3 mm,
Number of layers that can be applied: 2-3 layers,
Pot life of the mortar: 30 minutes,
Time to wait between layers: 6 hours,
Time to wait for top coat application: min. 1 day,
Time to wait for landfill: min. 7 days,
Time required to fill water tanks with water: Min. At positive pressure. 7 days at negative pressure min. 14 days
APPLICATION
25 kg. MİNERFIX crystallized waterproofing mortar is mixed with 10-12 liters of water for application with a brush, 7-8 liters of water for application with a steel trowel, preferably with a low-speed drill until there is no lump. In brush application, waterproofing mortar is applied to the moistened surface with a brush in three layers perpendicular to each other. The second layer is applied by wetting (within approximately 6 hours depending on the temperature) when the first layer is hardened but not fully dried yet.
First layer waterproofing mortar 1-3 mm for old concrete, brick wall or briquette surfaces in trowel application. thick applied. On top of that, the second layer is applied in the consistency of sherbet. In dry sprinkling application, Crystallized waterproofing mortar is applied by sprinkling the joint gaps in powder form on horizontal floors. Whichever of these 3 methods is used, curing with water after application is extremely important. After the application, the crystallized waterproofing mortar should be prevented from drying immediately and it should be kept moist for about 1 week. For this, it is beneficial to spray water as in normal concrete curing process.
WARNINGS
No material (lime, cement, gypsum, etc.) should be added into the prepared mortar. Expired mortars should not be mixed with water or dry mortar and used again. It should not be applied on very hot or frozen surfaces exposed to the sun for a long time.
It cannot be applied on wooden coatings, metal coatings and surfaces exposed to moisture. Do not go beyond the specified application surface and usage instructions. Do not inhale. In case of contact with eyes, rinse with plenty of water. If necessary, consult a doctor.
Gloves should be worn during application as it is a cement-based material. Packaged product should not be stored in humid environments.
CONSUMPTION
With a brush; 2 kg / m² (3 layers), with a trowel; 1,5 kg / m² (for 1 mm. Thickness), by dry scattering;
2 kg / m² (Depends on the width of the joint)
STORAGE
It should be stored in a dry and moisture-free environment for 8 months in its original packaging with a maximum 10-layer stacking. It is recommended to be consumed within 7 days after opening the bag.
HEALTH AND SAFETY
Skin and eye contact should be avoided. Gloves must be used during storage and application.
Teknik Özellikler