OUR PRODUCTS
Quality perspective for all your projects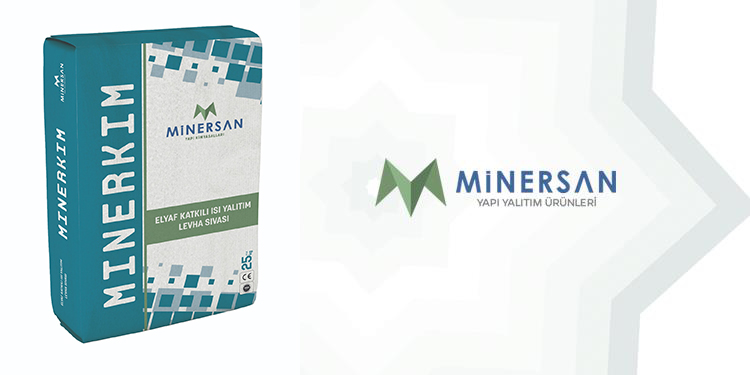 Minerkim; It is a ready-to-use polymer modified, cement-based, high-performance plastering mortar with high strength, high adherence, fiber reinforced, used for plastering on polystyrene-based insulation boards.
MSDS
USAGE AREAS:
It is used as plaster on Rock Wool, XPS or EPS boards. It is used for plastering horizontal and vertical thermal insulation plates on walls and ceilings in indoor and outdoor areas.
SURFACE PREPARATION:
The plate surface to be applied must be clean and dry. Thermal insulation boards must be placed in the gauge. The gaps between the boards should be filled with the same insulation material or foam according to the width, and the protrusions that will occur should be cleaned to reduce consumption.
PREPARATION OF THE MORTAR:
Thermal insulation board plaster 6-7 lt (may vary depending on the air temperature) clean and cool mixture water (25 kg) powder material is poured and a lump-free homogeneous mixture is obtained in 3-4 minutes with a suitable mixer with low speed and kept for 5-10 minutes. The matured material is mixed again and made ready for use. No water should be added to powder material. The application temperature is recommended to be made between +5 C and +35 C.
APPLICATION:
Apply the mortar with a steel trowel on the thermal insulation boards, of which the plugging process has been completed. Bury the sheathing net with the help of a steel trowel by pressing lightly on it before the plaster mortar dries. Approximately 10 cm is superimposed on each other at the joints of the sheathing mesh. After the 1st coat of plaster slightly drains away, the 2nd coat of plaster is applied before it dries. After the second layer of plaster is applied, the surface is smoothed with a steel trowel. Consume the prepared mortar within 2 hours, discard the expired mortar. After the plaster mortar is completely dry, apply breathable top coat coating material. The plaster to be made on the thermal insulation plates should not exceed 4 mm.
APPLICATION LIMIT:
The prepared material should be used within approximately 2 hours. During the application, the environment should be protected from wind and sun.
CONSUMPTION:
4,0-5,0 kg / m2
PACKING:
25 kg Kraft bag
STORAGE:
It is 12 months from the production date in unopened packaging and in dry environments.
HEALTH & SAFETY:
Since it is cement based, do not inhale its dust, avoid contact with skin and eyes. Hands and application tools should be washed with plenty of water after application. During the application, the ground should be protected from wind and direct sunlight. The stated consumption amount is a general information. It may vary depending on the application conditions and surface properties.
Teknik Özellikler
| | |
| --- | --- |
| VIEW | GRAY POWDER |
| APPLICATION TEMPERATURE | (+5°C)-(+35°C) |
| TEMPERATURE RESISTANCE | (-30°C)-(+60°C) |
| APPLICATION THICKNESS | 3-4 mm |
| WATER MIXING RATIO | 5-6 lt/25kg |
| CAP LIFE | 2 HOURS |
| OPERATION TIME | 1,5-2 HOURS |
| TIME TO WAIT BETWEEN FLOORS | 4-5 HOURS |
| DENSITY OF DRY BULK | 1400±300 kg/m3 |
| PRESSURE RESISTANCE | 6 N/mm2 (28 gün sonra) |
| CAPILLARY WATER SUCTION | W0 |
| FIRE REACTION | A1 |