OUR PRODUCTS
Quality perspective for all your projects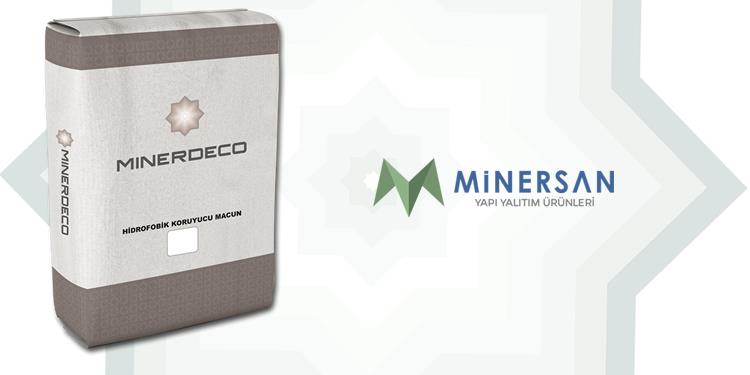 MINERDECO: It is used as the last layer coating material on all exterior thermal insulation systems. Grain Textured Plaster is a mineral coating consisting of 98% inorganic materials developed as a surface coating material on the exterior of buildings, with a mineral patterned texture, water-resistant and frost-resistant, resistant to UV rays, high adhesion strength, elastic and breathable. Since it contains crystallized minerals in its structure, it has a feature of reflecting sunlight.

MSDS
SURFACE PREPARATION
The surface should be clean, smooth and sound. Before the application, the surface must be moistened and saturated with water in very hot and windy weather. The minerdeco, which can be easily applied on any surface, gives much more efficient results on clean and smooth surfaces.
APPLICATION CONDITIONS
Care should be taken to keep the ambient temperature between + 5˚ C and + 35˚C during application. Do not apply on surfaces that are frozen, melting or have the risk of frost within 24 hours. It should not be applied under direct sun or strong wind. The application surface should not be left half-left and the application should be continued until the facade is finished.
APPLICATION FEATURES
Mixing time: 5 minutes. Resting time of the mortar: 1-2 minutes, Pot life of the prepared mortar: 30 Min. Application thickness 2mm-5mm. Complete drying time: 2-3 days.
APPLICATION
25 kg of Grain Textured Minerdeco Decorative Plaster Mortar is poured into 12-14 liters of clean water and mixed with a low-speed mixer until a lump-free homogenous mixture is obtained. The mortar is left to rest for 1.2 minutes and mixed again. Decorative plaster should be spread evenly on the surface with a stainless steel trowel, and the application thickness should be adjusted according to the largest pattern stone. Application thickness is 2mm-5mm. Pattern the surface with a plastic trowel in circular movements. Patterning should always be done when the decor plaster is wet. The specified times are valid for 20˚ C surface and ambient temperature, the time is longer at low temperature and shorter at high temperature. After the application, the surface should be moistened at 1 day intervals.
WARNINGS
No material (lime, cement, gypsum, etc.) should be added into the prepared mortar. Expired mortars should not be mixed with water or dry mortar and used again. It should not be applied on very hot or frozen surfaces exposed to the sun for a long time. It cannot be applied on wooden surfaces, metal surfaces, painted and moisture exposed surfaces. Gypsum board, gypsum plaster, gypsum block etc. It cannot be applied on surfaces without using an adherence enhancing primer. Do not go beyond the specified application surface and usage instructions. Do not inhale. In case of contact with eyes, rinse with plenty of water. If necessary, consult a doctor. Gloves should be worn during application as it is a cement-based material. Packaged product should not be stored in humid environments.
STORAGE
It should be stored for 12 months in a dry and moisture-free environment in a maximum 10-fold stacking in its original packaging. It is recommended to be consumed within 7 days after opening the bag.
HEALTH AND SAFETY
Skin and eye contact should be avoided. Gloves must be used during storage and application.
Teknik Özellikler